Where have all the skilled labourers gone? Construction hiring managers can all agree that it is difficult to find skilled labor in today's market.
At the start of the pandemic, the Bank of Canada's Business Outlook Survey found that firms frequently reported a shortage of specialized labour (e.g., skilled trades, engineers). In their report at the end of 2021, it has worsened. Roughly 4 in 10 firms see labour shortages as holding back their sales. Firms have also said that the intensity of labour shortages across regions, sectors and many occupations continues to grow.
The most recent employment numbers from Statistics Canada also don't look good. Job vacancies in Canada increased to an all-time high of 912,600 in the third quarter of 2021, as firms and employees adjusted to loosening public health constraints and fast changing economic circumstances.
According to a new report by the Canadian Federation of Independent Business (CFIB) entitled "
Labour shortages are back with a vengeance
"
, over half of small firms (55%) report that they are unable to hire all the people necessary for present operations or to meet increased demand, while another 16 percent report that they were able to overcome the obstacle, albeit at a large extra expense.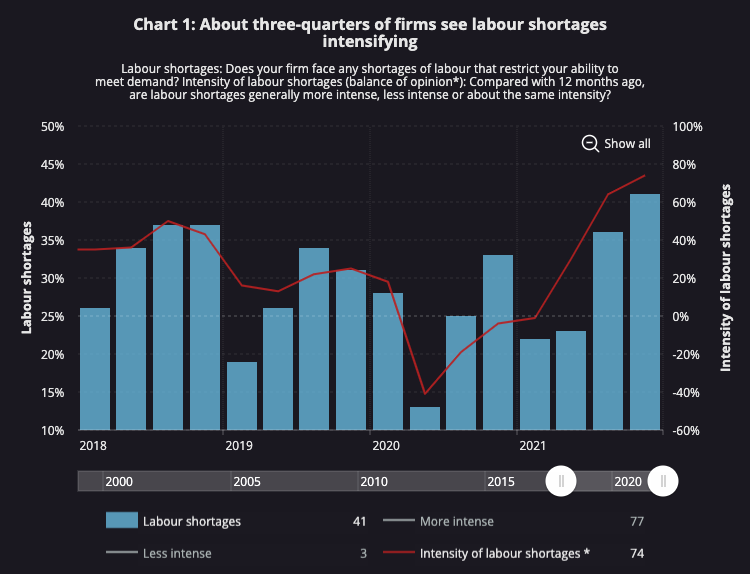 The shortage of skilled labour in Canada is nothing new. In fact, skilled labour in construction, mining, warehousing and logging have been experiencing labour shortages for years. For many Canadian firms, 2012 marked the tipping point on this problem. The recession had masked a catastrophe, which had now become completely obvious.
Fast forward to November 2021, and more than one in every two small businesses in Canada reported being impacted by labour shortages. 
While 
the COVID-19
pandemic 
is 
not 
the 
root 
of 
this 
issue, 
it 
has 
undoubtedly 
aggravated 
it.
Canadians need to acquire new skills in order to stay employable. A 2019 OECD Employment Outlook report suggested that 29% of jobs in Canada are likely to see significant change in task content and an additional 14% could be completely automated in the next decade.
Post-Pandemic Tips to Recruit the Construction Workforce
Now is the best time to make plans for how your company can retain and recruit top talent as our country and industries rebuild.
Like the majority of Canadians, many construction workers have re-entered the labour force after being out of work for nearly two years. The post-pandemic recovery period will take a while, and companies are looking to fill their workforce with specialized skills.
It's important that you make your recruitment efforts enticing and make your company attractive on a global scale. Companies that are currently in hiring mode should:
Be open with the public about how they attract and keep talent.
Show prospective employees how they can grow their careers within your firm by sharing new or upcoming projects.
Make people feel appreciated with incentives and bonuses.
Consider a hybrid model allowing workers to work remotely from home.
Help employees who are less skilled by providing training and an onboarding process.
Post-pandemic, there are only a handful of individuals with skilled labour who have the experience needed to get projects completed. This means there are a number of advantages to building your workforce retention strategy now and constructing your company image as an attractive employer with competitive salaries, good benefits, and opportunities for advancement.
Challenges Facing the Construction Industry When Securing Workers
The construction industry in particular has been facing a labour shortage for the better part of a decade. This is due in part to an aging workforce, a decrease in educated college/university grads with the skillset required for construction labour, and the fact that the construction industry is highly dependent on seasonal and temporary workers to complete projects.
In order to re-build your workforce faster and more efficiently, construction business owners must be flexible and think outside the box of traditional recruitment and hiring methods. One way to consider is hiring temp labour and working with a staffing company such as MGR Workforce.
A Scalable Construction Workforce On-Demand
MGR Workforce complements your company by providing a scalable workforce that you can use for the duration of your project or as needed.
Our team can provide you with reliable, skilled workers who will complete your project on time and help keep it within budget. By working with us, not only do you get access to the skilled labour you need immediately but also a long-term team of people who are reliable and accountable.
MGR Workforce has invested in new technologies that can help streamline your hiring process which saves both time and money. Contact us today and see how you can fill your temporary or permanent positions faster than ever before.