Temporary help agencies (THAs), also known as temp staffing agencies, have become indispensable partners for many businesses in Ontario, offering them the agility to scale their workforce according to demand. However, in 2024 the rules of engagement are set to change. The Ontario government has introduced new licensing regulations for THAs and recruiters, and it's crucial for business owners to understand the implications and not ignore them.
This new Ontario regulations for temp staffing agencies affects all businesses that use temp staffing including Construction, Home Builders, Warehousing & Logistics, HR Managers, and more!
Why the New Regulation?
The Ministry of Labour, Immigration, Training and Skills Development (MLTSD) has recognized the growing importance of THAs in the employment ecosystem. With this recognition comes the responsibility to ensure that these agencies operate transparently and fairly, safeguarding the rights of temporary workers. The new licensing requirement is a step towards achieving this goal, ensuring that THAs and recruiters maintain certain standards and practices.
Key Aspects of the New Regulation
Mandatory Licensing: Starting

January 1, 2024

, all THAs and recruiters must possess a valid license to operate in Ontario. This move aims to bring more transparency and accountability to the sector.
Security in the Form of Irrevocable Letter of Credit: THAs and recruiters will need to provide up to $25,000 as an irrevocable letter of credit when applying for a license. This amount can be used to repay owed wages to employees if the need arises, ensuring that workers' rights and dues are protected.
Penalties for Non-compliance: The regulation has teeth. Agencies providing misleading information during the licensing process, operating without a license, or clients knowingly using unlicensed THAs face penalties up to $50,000.
Public Database: The MLTSD will maintain a public database of licensed THAs and recruiters. This will allow businesses and workers to verify the legitimacy of an agency before engaging with them.
Annual Renewal: Licenses aren't a one-time affair. THAs must renew their licenses annually, ensuring they remain compliant with evolving regulations and standards.
Where Can You Check The Status Of Licensed Temp Staffing Agencies?
A public database is available on the Ontario website that allows you to search licensed THAs and check their status.
For example, searching MGR you can see us listed in the database: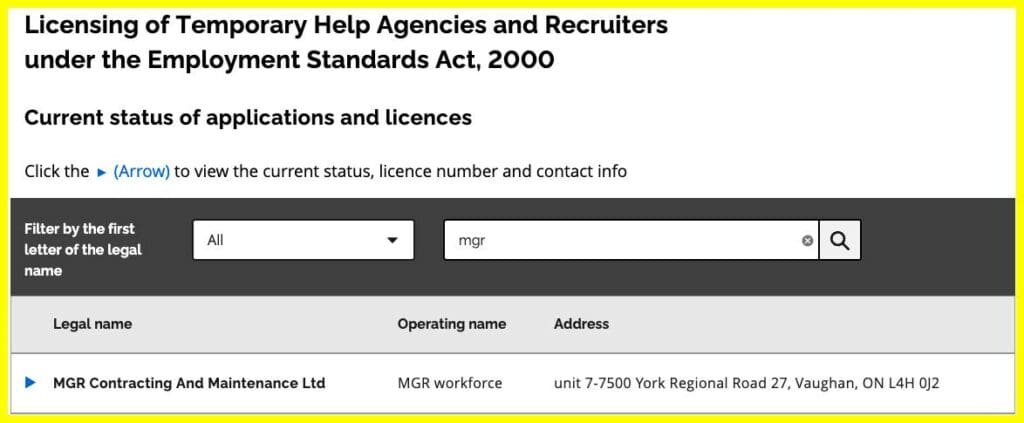 What Does This Mean for Ontario Business Owners?
For businesses that rely on temporary staffing solutions, this regulation brings both challenges and opportunities:
Due Diligence is Crucial: Before partnering with a THA or recruiter,

businesses must ensure that the agency is licensed

. Engaging with an unlicensed agency can lead to hefty penalties.
Enhanced Trust: With licensed agencies, businesses can be more confident in their partnerships. The licensing process will filter out unscrupulous players, ensuring that only legitimate and compliant agencies operate in the market.
Protection for Workers: The security deposit in the form of an irrevocable letter ensures that temporary workers' wages are protected. This can enhance the reputation of businesses that engage with such agencies, as they are seen as being more worker-friendly.
Ensure You're Working With A Licensed Staffing Agency
The new licensing regulation for THAs and recruiters in Ontario is a significant step towards creating a more transparent and fair employment landscape. While it introduces additional layers of compliance for businesses, it also offers an opportunity to build more trustworthy and reliable partnerships with staffing agencies.
Business owners must stay informed and adapt to these changes, ensuring that their staffing strategies remain both compliant and effective. As an Ontario business owner using temp staffing services, you can not ignore these new regulations!
As an Ontario business owner, starting January 1, 2024, if you are a client of a temporary help/staffing agency, you are prohibited from knowingly engaging or using the services of that agency unless the agency holds a licence to operate as a temporary help agency.
Violations of these rules may result in enforcement action, which can include:
Ordering compliance
Issuing monetary penalties
Prosecution
If you're working with MGR Workforce, you can rest assured that we have taken all measures necessary to comply with the new regulatory standards. Our unwavering focus has always been on delivering exceptional and dependable staffing solutions, and these new requirements seamlessly align with our mission.
Have a Staffing Need or project in mind? Don't hesitate, Contact us today!
Frequently Asked Questions
Have questions about Ontario's new licensing requirements for temp staffing agencies? Feel free to contact us, or check out our FAQ's below:
Why Are The New Licensing Requirements Being Implemented?
The Ontario government is implementing new licensing requirements to regulate the industry and safeguard workers. This move is dedicated to guaranteeing fair wages, working conditions, and overall transparency. We fully endorse these changes and are already taking measures to comply.
When Is The Deadline for The New Requirements?
Starting January 1, 2024, all Temporary Help Agencies (THAs) and recruiters will be required to possess a valid license to operate in Ontario. But rest assured, we are ahead of the game and have applied for our license well before the deadline.
As A Client, Can I Still Work with Unlicensed Agencies?
Short answer: No. As a client, starting January 1, 2024, you are prohibited from engaging with unlicensed Temporary Help Agencies (THAs) or recruiters.
What Happens During the Transition Period?
When an agency applies for a license by January 1, 2024, it can continue to operate until a decision is made. If its application is refused, it receives a 30-day grace period to continue operations.
How Can I Verify if an Agency is Licensed?
A public database is available on the Ontario website that allows you to search licensed THAs and check their status. And of course, we'll provide all necessary documentation to prove our licensed status.
Next Steps To Work With MGR Workforce
Looking to hire temporary workers for your business? Click here to request workers.