A new report from RSM Canada shows economic growth is projected to surpass pre-pandemic levels, though labour and inflation pressures will continue to be a challenge.
Their forecast for 2022 includes:
Employment: The job market is predicted to continue to struggle with both a tight labour market and high long-term unemployment as the unemployment rate declines to just above 6 per cent.
Gross domestic product (GDP): Growth is predicted to be just under 4 per cent, surpassing pre-pandemic levels early in the year.
Inflation: RSM Canada predicts inflation to hit 5 per cent this year before approaching 3 per cent by the year's end.
Canadian economy: Expected to grow at a rate of 3.8 per cent next year.
A New Flexible, Hybrid, Digital Economy Workforce
When it comes to employment and the workforce, it is predicted in the report that as millennials enter management roles and Gen Z workers join the labour market we can expect to see the digital economy grow. The new normal will become hybrid work environments where workers are given flexible schedules.
Tight Labour Market
When it comes to the labour market in Canada, RSM Canada explains that "we are in a tight labour market with many vacancies in highly sought-after jobs while long-term unemployment persists".
Jobs in professional services jumped by nearly 10 per cent, outpacing any other sector.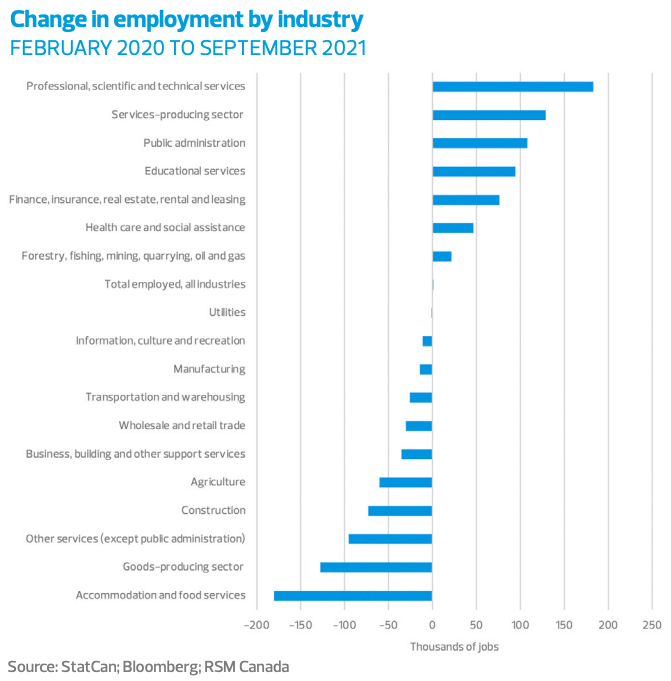 Job growth has been seen particularly in industries such as:
Professional, scientific and technical services
Services-producing sector
Public administration
Educational services
Finance, insurance, real estate, rental and leasing
Health care and social assistance
Forestry, fishing, mining, quarrying, oil and gas
RSM Canada concludes that Canada simply does not have enough young people to replace the number of retirees this year. Yet, despite Canada having a hot labour market, unemployment persists because of a skills mismatch.
Real Estate and Construction In British Columbia
One key finding that stands out is how hot the real estate and construction industries are in British Columbia specifically.
As a consequence of increasing demand for residential properties from potential homeowners and investors, along with historically low financing rates, house price inflation increased by double digits.
The sector is working hard to meet the needs of cities that are growing quickly and have a lot of people who are well-educated, businesses from other countries, and new immigrants. As the population of British Columbia grows, so does the number of skilled workers in the area. The Greater Vancouver Area, for example, is getting a lot of big tech companies, like Google and Amazon, who are setting up new offices there.
The continued growth of Canada's real estate and construction sectors explains why the industry has a more optimistic economic outlook than others; 86% of real estate and construction executives surveyed by RSM Canada expressed optimism about the future state of the British Columbia economy, while 68% expressed optimism about the broader Canadian economy. Additionally, respondents in that category were the most enthusiastic about their organisations' revenue (89%) and profit (81%) growth in 2022.
On the other hand, the construction industry faces a rising labour shortage, particularly in the skilled labour market. This shortage is expected to widen, raising questions about how the industry can better recruit and keep competent personnel.
MGR Workforce aims to bridge that gap, providing companies with skilled workers during the labour shortage. Contact us today to request workers.